As an Amazon Associate we earn from qualifying purchases.
When you are a recording professional, studio monitors are crucial to your job. You will require quality speakers which provide ultra-clean sounds, and that will allow for an accurate representation of what is being recorded.
at a glance: our top 3 picks for small studio monitors
That is why finding a top-quality pair of monitors is important, but sometimes this can be a bit of a challenge with so many brands and varieties out there to choose from. To make things easier, we have carried out a little market research of our own, and have been able to find three sets of the best small studio monitors on the market.
We hope this will give you a little bit of inspiration to find a pair to suit you. So sit back relax and enjoy checking them out in this article.
QUICK OVERVIEW: OUR TOP PICKS FOR SMALL STUDIO MONITORS
Image
Product

Our Top Pick

Monoprice 5-inch Powered Studio Monitor Speakers

Produce flat frequency response
Adjustable frequency bias
Crisp, quality sound

View On Amazon →

JBL Professional 2-Way Compact Loudspeaker System

150W pro quality
Professional drivers and high-quality crossover
Accurate frequency response

View On Amazon →

Kali Audio LP-8 Studio Monitor

3D imaging waveguide
Low noise port tube
Accurate bass response

View On Amazon →
Best Small Studio Monitors Reviews
Monoprice 5-inch Powered Studio Monitor Speakers

The first set of speakers to feature in our list are the 5-inch Powered Studio Monitor Speakers by Monoprice. These are studio ready and feature exceptional sound quality.
Pros
Produce flat frequency response
5" Kevlar bass drivers
Two delicate amplifiers
Four-position selectors
Adjustable frequency bias
Studio ready
Crisp, quality sound
Cons
The speakers tend to have an annoying rattling vibration at certain frequencies.
Summary
If you require professional sound quality, then the Monoprice speakers will not let you down. Monoprice is experts in electronic goods, and provide a wide range of audio equipment. Their speakers are excellent quality and are indeed studio ready.
Professional Quality
These monitors have been designed to produce a flat frequency response, suited to studio recording, mixing and mastering duties. Each speaker is individually powered, bi-amped by two dedicated amplifiers and use both audio input paths. (Balanced XLR) and (Balanced/unbalanced TRS/TS)
Two Separate Power Amplifiers
Each of the monitors feature two individual power amplifiers that total 70 watts of sound power; a 30-watt amplifier drives the monitor's tweeter, while a 40-watt amp drives its woofer.
Adjustable Frequency Bias
The high-frequency bias can be adjusted thanks to the four-position switch which is located on the back of each speaker. These include -2dB, -1dB, flat, or +1dB shelving frequencies higher than 3000Hz.
JBL Professional 2-Way Compact Loudspeaker System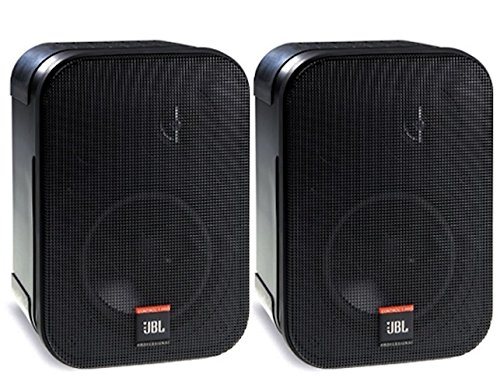 The next small monitor set featured on our list is the professional 2-way compact loudspeaker system by JBL. This is the latest version of this product meaning it is very up-to-date. We take a look at the 2-way loudspeaker by JML in more detail below.
Pros
150W pro quality
Variable angle wall brackets
Professional drivers and high-quality crossover
SonicGuard HF overload protection
Magnetically shielded transducers
Accurate frequency response
4" woofer
200-watt peak-power handling capacity
Cons
These speakers are reported to have had a poor frequency response
Summary
JBL are specialists when it comes to sound, and have an exciting range of high-quality speakers and headphones. They have been making excellent sound quality for over 70 years, and their professional 2-way compact loudspeaker system is no exception.
High Performance
The JBL speakers are studio ready. The compact loudspeaker system speakers offer outstanding audio output. Thanks to a peak power handling capacity of 200 watts, these will guarantee distortion-free reproduction of your music. You can't get any clearer than that.
Accurate Frequency Response
Don't think it's small size will compromise the sound. These speakers deliver a frequency response of 80Hz to 20kHz which allows a full range of sound, ranging from deep bass tones to even the highest frequencies. These JBL speakers will enable you to hear the music as it is.
Big Bass
Thanks to a 4-inch woofer and ½ titanium-laminate tweeter, you can be guaranteed a big room bass sound. The titanium's strength makes perfect for accurately producing crystal-clear high frequencies without any distortion or strain, even when the volume is at a high level.
Kali Audio LP-8 Studio Monitor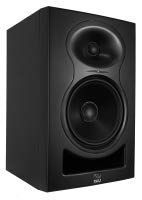 The third and final small studio monitor featuring on our list is the LP-8 studio monitor by Kali Audio. This is another great, professional-quality monitor which is suitable for recording sessions as well as personal use.
Pros
3D imaging waveguide
High output
Low noise port tube
Bass power
Accurate bass response
Boundary EQ
Cons
The speaker arrived damaged in some situations
Summary
Are you looking for a high-quality speaker for your home studio? The 8-inch studio monitor by Kali Audio is sure to be a good option for you. Kali audio is a studio monitor and loudspeaker manufacturer who create top-quality products in Southern California, and they are guaranteed to provide the quality you desire.
Professional Sound
Featuring an 85 dB continuous output at 2 meters, and a 20 dB of headroom, the lp-8 is pretty loud for its small size. This speaker provides a fantastic sound in home studios, editing bays, and most control rooms. The monitor has been designed to produce a clear, transparent sound which makes them perfect for recording and mixing.
Hear Every Detail
Thanks to the inclusion of Kali Audio's Boundary ED settings, you can optimize the speaker's response for exactly where it's placed in your listening area. The LP-8 has been designed to allow you the opportunity to hear every detail of your mix to a very high standard.
Which of the Best Small Studio Monitors Is Right for Me?
So there you have it. Three of the best small studio monitors on the market, but which is most suited to you?
Are you shopping on a budget? Then the best option most likely to match you is the JBL Professional 2-Way Compact Loudspeaker System. We have to admit, most of the options featured on this list are quite pricey, but we can assure you that if it's professional quality you are looking for, then these three options will give it to you.
Amazon and the Amazon logo are trademarks of Amazon.com, Inc, or its affiliates.