As an Amazon Associate we earn from qualifying purchases.
Listening to good sound while working on our desks is something we all crave. We have gotten used to relying on the simple speakers integrated into out laptop or phone and don't even realize that there is something even more suitable out there for us, and even without having to fork up some insanely high price.
There are many types of speakers, speaker systems, studio monitor speakers, amplifiers and much more on the market today, but a very suitable option for a nice pair of speakers that can greatly improve the quality of the sound without any additional fuss is to get an active bookshelf size speaker system.
The active speaker system is something very interesting. It features an integrated amplifier inside which means that there is no need for you to get an amplifier or spend even more on extra equipment.
The active speaker systems on the market today all have a very nice aesthetic design and very, very desirable features.
Why select an active speaker system?
As said before, the active speaker system does not require the use of an additional amplifier. So you don't have to buy an amplifier and have it take up the useful space on your desk or having to buy or build a specialty stand for this.
The use of active speaker system eliminates the need for additional cables that run from the amplifier and cramp up space. The fewer components in the series, the less possibility that something will go wrong or some annoying issue will bother your peaceful enjoyment of your favorite tunes.
Another important feature of the active speaker system is that you can directly plug any device that has a 3.5mm audio jack output and press play on your favorite song. The active speaker system can be connected to a TV, PC a laptop, smartphone, record player or an iPod.
The bookshelf size active speaker system is perfect for use on the desktop, in a small office or in a small home where available space is imperative, but you don't want to make a compromise on sound quality.
Edifier R980T 4" Active Bookshelf Speakers
A proper choice for a bookshelf active speaker system is the Edifier R980T 4" Active Bookshelf Speakers. This nice little pair of speakers has a very compact size, very nice looks and packs some amazing features at a very affordable price.
These are made from medium-density wood fiberboard with nice wood veneer on them. The front mesh is very fine and elegant, and the elegant logo on the bottom only adds to their beauty.
This model features all the inputs and controls on the back side of the speakers, with a master volume and bass level knobs and the two RCA inputs.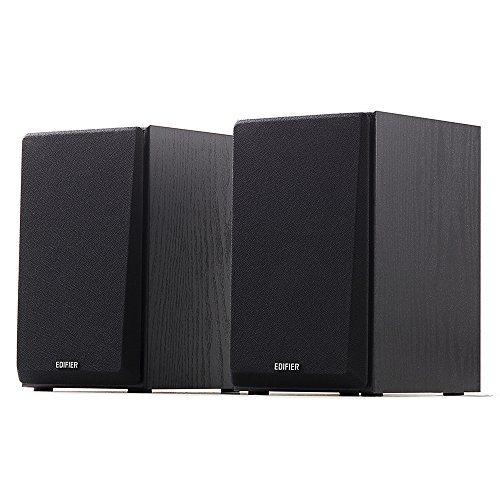 Main features
Bookshelf size active speaker system
Dual input via two RCA inputs
Master volume knob
Adjustable Bass level
A 4-inch bass driver, and a 13-mm tweeter speaker
24W Power output (pair) – 12W power per speaker
Flared bass reflex port on the front
All necessary cables included
Two-year warranty
Pros
The Edifier R980T 4" Active Bookshelf Speakers have some amazing pros to their name, and here we will name a few of these:
Compact size without sacrificing sound quality
24W Power output is enough for bookshelf size speakers
Elegant design and look that doesn't interfere with your desk
Nice bass reflex that packs enough punch for a small computer speaker system
Master volume knob and bass level knob
Dual RCA inputs allow you to plug any device with a 3.5mm output
Cons
Still, as any other device on the market today, these also have some cons that we will note below:
Volume limitation does not allow automatically set sound
Compromise on low bass frequencies due to small size
The Edifier R980T 4" only come in black finish
Not suited for audiophiles as these are primarily computer speakers
For people that have gotten used to the sound of smartphone earphones, the Edifier R980T 4" Active Bookshelf Speakers will be an amazing upgrade. The small size – 9 inches tall, 6 inches deep and 5 ½ inches wide, is enough to easily fit on any desk or smaller shelf.
They come with all the necessary cables: RCA connector cable, RCA on one side and 3.5mm headphone jack on the other side, a cable that connects both speakers and a 110V power supply cable. The amplifier is built in the speakers itself, in this case, the amplifier is located in the left speaker and inputs master volume and bass controls are on the back of the left speaker, the right speaker gets the signal from the left one.
Another positive feature is the two-year warranty that you get when purchasing this nice pair of speakers. The manufacturers guarantee the quality of their product, and if anything goes wrong, you can easily get the faulty product exchanged.
Comparison
A similar item to the Edifier R980T 4" Active Bookshelf Speakers are the Bose Companion 2 Series III Multimedia Speakers. Just like the Edifier active speakers reviewed above, these are also bookshelf size active speakers.
The Bose Companion 2 Series III Multimedia speakers offer good quality audio for your PC, laptop, iPad or smartphone. Just like the Edifier speakers, these also can be connected to an additional audio source, meaning that there are two inputs to both models.
The main difference between the Edifier and the Bose models mentioned here is that the volume control and inputs on the Edifier are in the back and do not interfere with the design of the front mesh and both left and right speakers are identical.
The main input and the master volume control on the Bose are at the front of the right speaker, where the amplifier is integrated.
Both of these only come in black finish. The higher quality audio performance of the Bose speakers comes with a significantly higher price though.
Final thoughts
If you are looking for a decent upgrade of the sound of your laptop, PC or iPod, or a simple way to amplify the sound of your smartphone, then the Edifier R980T 4" Active Bookshelf Speakers are the way to go.
Coming at a reasonable price and offering quality sound, this active bookshelf sized speaker system will really improve the way you enjoy listening to your favorite tunes while sitting on your desk.
Amazon and the Amazon logo are trademarks of Amazon.com, Inc, or its affiliates.