As an Amazon Associate we earn from qualifying purchases.
So, you've been honing your music skills and are ready to lay down your first track. You have two options.
On the one hand, you could book a recording session at a professional studio. Keep in mind that if you go that route, it's going to cost you a decent amount of cash in the long run.
On the other hand, since you're just dipping your toe into the recording pool, you can set up a home studio of your own and record the vocals yourself.
Now, we don't mean getting a 350 square-foot space and setting up a fully-equipped world-class recording studio. There are several recording studio equipment packages you can get that can deliver high-quality sound recordings but on a much smaller scale.
Here's what you need to get started.
How to Get the Best Recording Studio Equipment Packages
If you're new to the recording world, the last thing you want to do is blow your money on individual items, when you're not quite sure what you need in the first place. Well, you could, but here's why we would advise against taking that approach.
You probably already envision what a recording studio looks like. If you buy the items one at a time, there's a good chance you'll end up with a piece of equipment that you'll never use. This method can also end up being quite expensive.
Recording studio equipment packages not only combine all the devices you need into one convenient package, but they also offer excellent value for money. Plus, you can rest easy knowing that you'll use every single piece of equipment in the bundle to deliver a musical masterpiece (perhaps not on your first attempt, though – just saying).
So, what should you look for in the best recording studio package? There are three things you need to keep in mind.
1. What's in the Package?
First off, you'll need to take a look at the components in the package to see what's included. The contents may vary depending on the brand, but all of them should have the following basic items to get you started.
Condenser Microphone
The sole purpose of a microphone is to capture vocal and instrumental sounds – which are at the heart of every studio recording. There are several different mics available on the market right now.
Some packages have dynamic mics. These are typically used for recording drums, electric guitars, and rock vocals.
Others have condenser mics. These are a better option since they are designed to capture the frequency response of vocals and instruments in much greater detail than would otherwise be possible via a dynamic mic.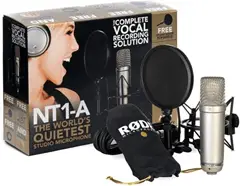 One of the best condenser microphone bundles in the industry is, no doubt, the Rode NT1-A package. It comes with a cardioid condenser microphone, shock mount, pop filter, and dust cover. This particular mic-only bundle is perfect for individuals who don't need additional headphones, an interface, or recording software.
Audio Interface
Next, ensure that the package has an audio interface included. It is essentially a small device that allows you to get your recordings into and out of the computer during mixing and playback, respectively.
Users can plug in their instruments via analog or MIDI connections, to allow the digital audio workstation (DAW) to record, mix, edit, and master your sound and vocal data. No recording studio equipment package would be deemed complete without it.
You also want to get an audio interface that accommodates various size inputs and outputs for the I/O ports. Smaller interfaces are more suited for recording individual instruments while the larger ones are designed for live band recordings.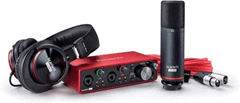 The Focusrite Scarlett 2i2 studio recording bundle has an excellent audio interface included in its package. It has two built-in high-headroom instrument inputs, which are great for plugging-in instruments like guitars or bass.
It also has two line-level inputs suitable for connecting to linear sources. The package also includes a large-diaphragm condenser mic, a microphone stand, a mic cable, and a pair of closed-back studio headphones.
XLR Cable
To start recording, your mic needs to be connected to the audio interface. XLR leads are used to transmit the signals to and from the respective devices effectively.
You want to get a high-quality, balanced XLR cable that transmits both the positive and inverted signals to cancel out any unwanted noise interference.
Headphones
Last, but certainly not least, a great equipment package should include a pair of good quality headphones to let you keep track of and listen back to your recordings in real-time. Closed-back headphones are ideal for preventing the sound from bleeding through the headset and getting picked up by the microphone.
2. Versatility
Studio equipment bundles are a great option if you're a newbie. Nonetheless, at some point, you will want to upgrade and optimize your setup. Ensure that each of the components in the bundles is versatile enough to allow for this.
For instance, if you intend to get a MIDI keyboard controller at some point, make sure that the audio interface in the kit has several ports of different sizes to accommodate such upgrades.
3. Quality
While you might be tempted to get a kit that has several items included, more doesn't necessarily mean better. Bargains are great and all, but they shouldn't be at the expense of quality.
Focus on bundles that feature quality items from trusted brands, as opposed to buying a package, simply because it has everything from a studio monitor to subwoofers. Quality should be your top priority.
Sometimes Less Is More
Recording studio equipment packages are typically designed for podcasters and musicians. Do a bit of background research on them to get an idea of the bundles' target market.
Use this article as the basis for the items that every studio kit should have. Remember, it's not about how much stuff is included, but rather the quality of the items inside. Sometimes, less is more.
Are you thinking of becoming a music producer? Check out our blog for the top 9 pieces of music production equipment you must have.
Amazon and the Amazon logo are trademarks of Amazon.com, Inc, or its affiliates.