As an Amazon Associate we earn from qualifying purchases.
Focal studio monitors may look like your average home entertainment stereo speakers but make no mistake about it – they are not the same thing. Stereo speakers are designed to enhance and amplify the sound to make it as pleasing to the ear as possible.
Focal studio monitors, on the other hand, deliver flat outputs. They are built to give you a true sound of a recording without all the bells and whistles associated with stereo speakers.
This article explores everything you need to know about studio monitors and why you need a set of them in your studio.
How Do Focal Studio Monitors Work?
Music is meant to be played back on stereos. So, it would make sense for recording professionals to use the same kind of speakers for mixing and mastering, right? From a consumer's perspective, it might. From a professional standpoint, however, there are several issues with that school of thought.
For starters, for a track to sound as good as it does through the stereo, there's a lot of work that's gone into it. Any errors, flaws, and nuances that may otherwise go undetected during the production process only get amplified when played on regular stereos.
The only way to catch them before you release your music to the world is to listen to it on speakers that don't do anything to enhance the sound. That's where studio monitors come in.
Home stereo speakers are "passive." So, they rely on external amplifiers that use speaker outputs. Studio monitors, on the other hand, are considered "active" since the speaker cabinet hosts the power amplifier within it.
A quick way to identify whether you're dealing with an active or passive speaker will be to check if it has a mains inlet. If it does, then it's an active speaker.
Why Artists and Producers Prefer Focal Studio Monitors
Active speakers have several power amplifiers. There's one in the woofer, the tweeter, and the mid-range speakers. That way, you get an accurate, dynamic, and somewhat "punchier" response.
The woofer draws loads of power for every kick-drum hit and bass note that goes through. If all the speakers were powered by one external amplifier – as is the case with passive speakers – it would gobble up most of the power, leaving the other speakers with little to none.
So, it would be hard to get an accurate sound image of the recording that's playing. But, since each studio monitor has its dedicated amplifier, it effectively eliminates any overlap between the woofer, tweeter, and mid-range speaker.
It provides an accurate depiction of what each of the different layers of the recording sound like, making it easy to pick up on any flaws that may be present. The result: An exceptionally-clear and highly-detailed sound image.
How Can Studio Monitors Benefit Your Studio?
As an aspiring music producer, there's one thing you need to keep in mind. The way you listen to music and the way your audience listens to music are worlds apart. Your audience just wants to listen to their favorite jams as best as they can.
For some people, this means cranking up the bass. For others, it involves enhancing the mid to higher frequencies so that they don't miss the words to the song.
Every consumer has a preference for the way they listen to and enjoy music. Whether or not this was the artist's initial intention is purely subjective.
As a music producer, musician, or engineer, you need to hear the music in its truest form, stripped of all the enhancements that would otherwise mask certain imperfections. You want to hear whether the mic inadvertently picked up the sound of the dog that was barking incessantly in the backyard.
You want to hear if you or your artist hit the high notes correctly. You want to hear whether the drumbeat was in sync with the electric and bass guitar. You want to hear if the background vocalists kept up with the tempo or if they can be heard at all.
You want to check that the volume of all the respective instruments doesn't overpower the vocals. You want to hear if the balance is perfect.
Studio monitors give you the chance to address any issues with your recordings before the general public notices.
How to Find the Right Set of Studio Monitors
The first thing you need to do is change your mindset from a consumer mentality to that of a producer. Technically-speaking, focal studio monitors aren't designed to "sound good." They are just supposed to check for flaws.
Here are a couple of factors you need to consider when buying a set of them.
Frequency Range
Before you buy a monitor, confirm that it can handle the full frequency range of your recordings. A monitor with a frequency response of 50Hz to 20,000Hz is ideal.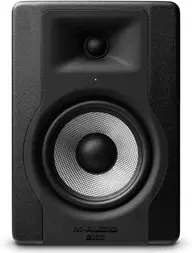 The M-Audio BX5 D3 excels in this regard. It has an ultra-wide frequency response range of 52Hz to 35,000Hz, which is arguably one of the widest ones you'll come across.
Total Harmonic Distortion
The THD is a measure of how accurately a monitor can reproduce the audio you feed it. It should be as close to zero as possible.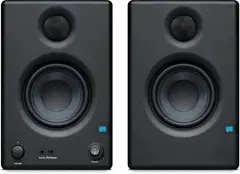 The Presonus Eris near field studio monitorhas a woven composite low-frequency driver that is highly effective in minimizing distortion.
Wattage
It is a measure of how powerful your studio monitors are, which is particularly important for mid-sized to larger rooms and studios.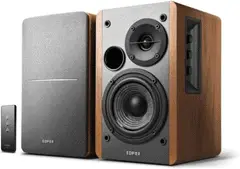 10 to 60 watts is ideal for average home studios. If that's what you're working with, then you'll love what the Edifier R1280T active nearfield monitors have to offer. Their classic retro look and 42 Watts RMS make them the perfect addition to your studio.
Listening Configuration
As you're shopping for a monitor, you're likely to come across the terms near/far/midfield. These are used to describe the monitor's listening distance. Near field studio monitors are optimized for close listening, whereas the far-field ones are designed to transmit the sound over a longer distance with the utmost precision.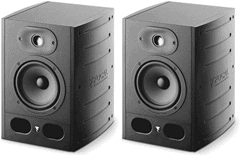 The Focal Alpha 2-Way Near Field monitors, for instance, are optimized for close listening. So, you can place them on your workstation when editing, mixing, and mastering with no issues at all.
Catch and Correct Flaws With Accurate Precision
Whether you're looking to record your voice and guitar, or mix and master for a big project, focal studio monitors play a central role in the whole process.
They allow you to hear your recording with accurate detail to catch and correct any flaws before you release it to the public. They are a must-have for any recording studio.
Do you want studio-quality recordings on your computer? Check out our blog to learn about the right microphone for recording vocals on your computer.
Amazon and the Amazon logo are trademarks of Amazon.com, Inc, or its affiliates.