As an Amazon Associate we earn from qualifying purchases.
If you had to choose between buying cheap studio equipment and getting expensive ones, which way would you go? Chances are – you would buy whatever's within your budget.
How about if someone was giving it to you for free? What would you do then? You would most likely go with the expensive gear. Reason?
The general perception is that there's a direct correlation between how expensive an item is, and its overall quality and lifespan. While this may be true to some extent, it is not always the case.
Besides, not everyone has the luxury of spending thousands of dollars on high-end studio equipment, especially when you're just starting. Plus, it doesn't mean that there are no low-cost brands that carry high-quality equipment. You just need to find the right ones.
Lucky for you, we've tried and tested several different brands to bring you our top 8 picks for the best budget studio monitors for 2020.
1. Best Budget Studio Monitor for 2020 – #1 Bestseller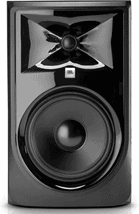 JBL has a legacy of producing high-performance sound equipment. The JBL Professional 308P MkII studio monitor builds on this long history of excellence to deliver an incredible amount of detail and exceptional sound-imaging, even in off-axis scenarios.
The best part is that it delivers a clear and crisp sound using the latest state of the art JBL technology at a very reasonable price-point.
Features
Cabinet dimensions: 16.5 x 10 x 12.1 inches
System type: Powered 8″ Two-Way
Peak SPL value: 112dB
Coverage pattern: 120° x 90°
Input type: Balanced XLR and 1/4″ TRS
Pros
Great value for money
Smooth high and low-frequency integration
Above-average sound image consistency
Cons
Doesn't have a bass boost feature
2. Best Compact Budget Studio Monitor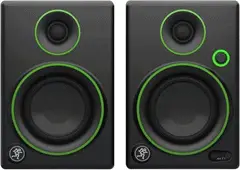 The Mackie CR3 is a compact 3-inch studio monitor that delivers high-quality flat sound, at a pocket-friendly price. It is ideal for both beginners and professionals looking for a compact set of monitors that's feature-rich and designed to offer extra flexibility.
Features
Cabinet dimensions: 6.2 x 5.5 x 8.2 inches
System type: 3″ multimedia
Amplification Type: Passive
Output power: 28 Watts
Input type:1/4″, 1/8", and RCA
Pros
It is a great option for entry-level mixing and mastering
Exceptional sound quality
Sleek, attractive design
Cons
Doesn't support bass frequencies
3. Best Versatile Budget Monitor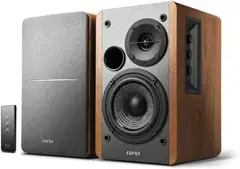 If you're looking for a set of monitors that's easy to use and easy to pair with other devices, then you'll love what the Edifier R1280T speakers bring to the table. They are not only great for professional-level monitoring, but can also be used for music listening, watching TV, or gaming.
They deliver clear and crisp audio, with minimal distortion and highly-accurate sound imaging. The fact that they are low-cost as well is a definite plus.
Features
Cabinet dimensions: 6.9 x 9.5 x 5.8 inches
System type: 4″ full range
Amplification Type: Active
Output power: 42 Watts RMS
Input type: 2 x AUX
Pros
Can be used for monitoring and music listening
The two AUX inputs allow you to connect two devices at the same time
Attractive wooden finish
Cons
4. Best Budget NearField Monitors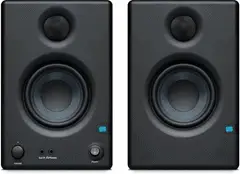 Compared to others in its price range, the Presonus Eris near field studio monitors excel in performance, style, and quality. They deliver a natural and high-clarity sound that you would expect from higher-end models in the market. They truly offer the best value for money you can get.
Features
Cabinet dimensions: 6.4 x 5.6 x 8.3 inches
System type: 3.5″ Two-Way
Peak SPL value: 100dB
Frequency response: 80 Hz – 20,000 Hz
Input type: 1/8″ balanced XLR, 1/4″ TRS, and unbalanced RCA
Pros
Supports acoustic tuning
Superior sound quality
Powerful bass response
Cons
May produce a mild twitter hissing sound at higher frequencies
5. Best for Accurate Sound Image Capture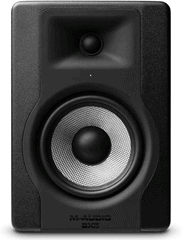 If you're looking for a monitor that lays strong emphasis on the top to mid-range frequencies, then the M-Audio BX5 D3 offers all that and more. It has built-in Kevlar cones and low/high-frequency drivers to offer smooth waveguides for a clearer sound.
Features
Cabinet dimensions: 7.8 x 6.9 x 10 inches
System type: 5″ Two-Way
Power output: 100 Watts
Frequency response: 52 Hz – 35,000 Hz
Input type: XLR, 1/4″ and balanced/unbalanced inputs
Pros
Compact, stylish, and robust
Low and high-frequency drivers for superior amplifier output
Enhanced and accurate sound-imaging
Cons
Doesn't have a high-frequency equalization option
6. Best Budget Studio Monitors for DJ Mixing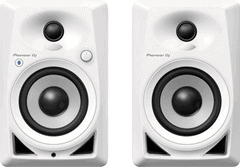 The Pioneer DJ studio monitors are an excellent choice for anyone looking to purchase their first set of monitoring equipment. They deliver a rich, versatile, and balanced sound, which is ultimately what you want when producing dance or electronic music.
Features
Cabinet dimensions: 15.6 x 10.8 x 13.5 inches
System type: 4″ Two-Way bass reflex
Power output: 2 x 21 Watts
Frequency response: 70 Hz – 30,000 Hz
Input type: RCA and Mini-Jack
Pros
Excellent for DJing
Sleek and stylish design
Highly-affordable
Cons
Doesn't have balanced Jack inputs
7. Best Budget Studio Monitor Headphones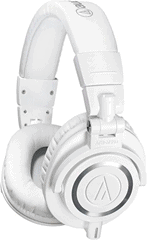 The Audio-Technica ATH-M50 headphones are no doubt the most critically acclaimed studio monitors in the sound industry today. They are designed using cutting – edge technology to produce accurate vocals and tones with minimal noise interference and distortion. They are excellent for isolating sound in noisy environments.
Features
Dimensions: 11.4 x 10 x 4.1 inches
90° multi-directional swiveling ear cups
Maximum power input: 1600 mW
Frequency response: 15 Hz – 28,000 Hz
Collapsible
Pros
Powerful bass frequency
Excellent sound isolation and imaging
Great value for money
Cons
Bass sound may be slightly exaggerated
8. Best for Minimizing Listening Fatigue
The KRK RP7 Rokit is one of the top entry-level studio monitors around. It allows you to adjust its settings based on the acoustics of the room you're in, using the DSP-driven room-tuning feature. It maintains frequency integrity across all levels while minimizing listening fatigue.
Features
Cabinet dimensions: 1 x 1 x 1 inches
System type: 7″ two-way active
Tweeter: 1" Kevlar fiber
Frequency response: 42 Hz – 40,000 Hz
Input type: XLR
Pros
Has an app for acoustic optimization
DSP-driven room tuning function to optimize acoustics
Keeps unwanted vibrations to a minimum
Cons
May not relay bass sounds in great detail
Don't Compromise on Quality
In an ideal world, it would be great if you could access high-end studio equipment. The reality, however, is that you might have to find a low-cost alternative. Nonetheless, this doesn't mean that you should compromise on quality either.
Keep in mind that you can always upgrade in the future once your production demands exceed the capability of your existing equipment. So, if you're on the hunt for the best budget studio monitors, you can't go wrong with any of the ones detailed in this guide. Start from where you are and work your way up. The journey will all have been worth it in the end.
Do you need a subwoofer with studio monitors? Should you get one? Check out our blog to put this age-old debate to rest once and for all.
Amazon and the Amazon logo are trademarks of Amazon.com, Inc, or its affiliates.