As an Amazon Associate we earn from qualifying purchases.
With music being such a huge part of many people's lives, there is always something new to better someone's music experience, from amazing apps to the best home studio monitors the market has to offer.
People who love music and are critical about their sound experience are caught in the age-old debate of whether to invest in a good set of studio monitors or to go with computer speakers. However, if you find yourself interested in music mixing and production, then it may be time to take a page from a composer's book and go on the hunt for the best home studio monitors around.
Various components make up a great home studio monitor, and these can differ even further depending on your space, preferences, and needs. Take a look at these great units we have in this article. Hopefully, you will get an idea of what you need to look out for when purchasing your own.
Dual Electronics LU43PB Studio Monitors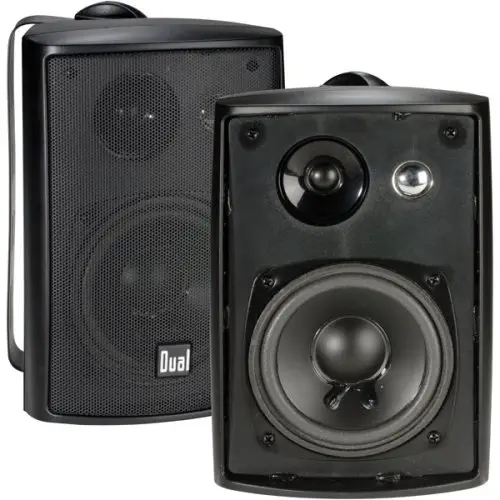 Features
Compact, Durable, and Powerful
The Dual Electronics LU43PB Studio Monitors feature 4-inch, 3-way speakers that weigh in at 2.8 pounds. But don't let their compact size fool you because they're powerful and made to last! The speakers feature a peak power of 100 watts, and as light as they come, it's easy to place them where you need them.
This pair also comes with easy-to-install swivel brackets, which give you a wide range of motion up to 120 degrees. The Dual logo on the front face can also rotate to up to 90 degrees.
Of course, there will be times when you'll want to emerge from your studio and feel the sun on your face, but with these speakers, you don't have to choose between the outdoors and your music.
The Dual Electronics LU43PB Studio Monitors are UV-treated. They also feature an ABS enclosure that makes sure your unit is well-protected against the elements while still being able to produce great sound. These speakers were specifically designed to withstand rain and heat, so no matter the season, you can rest assured you can enjoy your music whenever and wherever you are.
The Dual Electronics LU43PB Studio Monitors were designed and built with high-quality audio in mind.
Crafted with care, it features 100 watts of peak power with 50 watts RMS, 4 to 6 ohms, and a 100Hz to 20Khz frequency range to provide you with great quality sound. The sound clarity is enhanced through the speakers' 4-inch woofer, 3/4-inch tweeter, and 1-inch mid-range polypropylene cone.
Pros
Very durable
Great outdoor speakers
Cons
Spring loaded clips meaning the terminal button tends to pop out
Wire connection weak
Edifier R980T Powered Studio Monitors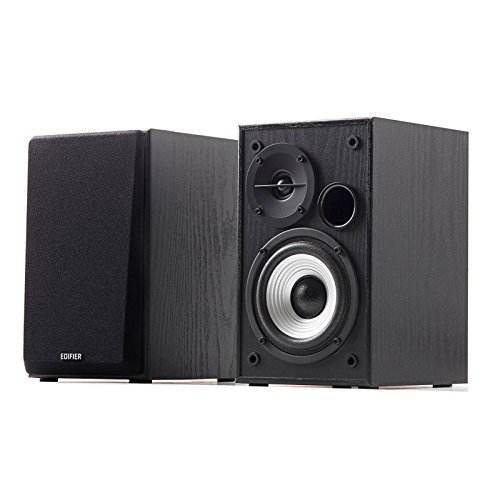 Features
The Edifier R980T Powered Studio Monitors are the perfect speakers for those who do not have much space available in their homes. This pair weighs in at 7.78 pounds and is compact at 17.3 by 7.9 by 10 inches.
If you need speakers that will fit into bookshelves or other small surfaces, then these are your best bet. But despite their compact size, they're still powerful enough at a total of 21 watts of sound, with the speaker having 12 watts RMS each.
Each speaker also has a 4-inch bass driver and a 13-mm tweeter, so you can rest assured the quality of the sound reproduced is there despite its small size.
The R980T Speakers provide you with a well-rounded sound that's full of depth. They are designed for an enhanced bass where the system is calibrated with a flared bass reflex port. This results in rich, detailed audio.
A 100% medium-density fiberboard wooden enclosure encases the flared bass reflex port, and the lovely wooden accent compliments any home or office studio.
The Edifier R980T Powered Studio Monitors can be connected to several audio devices via the RCA inputs. You can connect the speakers to both your computer and your television, or even a record player without the need to switch the inputs.
The bass knobs, as well as the master volume of the Edifier R980T Powered Studio Monitors, feature easily adjustable audio and bass levels at the back of the unit so that you can tailor your listening experience to how you like it!
Pros
Cons
Goes silent past 25% volume
Sound quality slightly muffled
Yamaha HS5 Powered Studio Monitors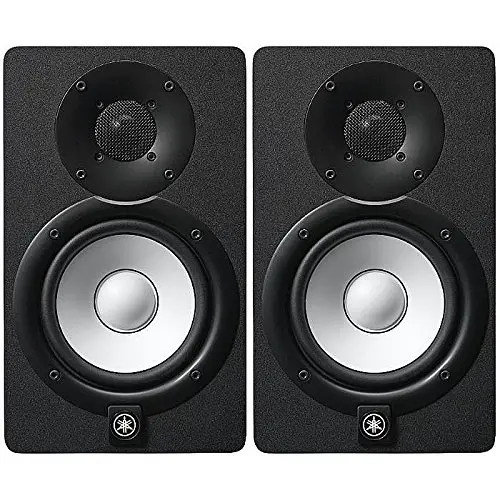 Features
The Yamaha HS5 Powered Studio Monitors feature newly developed transducers to give you the smoothest response possible over a broad bandwidth range. The transducers make use of an advanced magnetic field design which regulates the magnetic response flow. This results in a wonderfully accurate, natural sonic transition.
The HS series of speakers make use of an amplifier unit that is perfectly matched with the transducers. They feature a bi-amp design, with dedicated amps for both the woofer and the tweeter. The amplifier unit means that each HS speaker unit consistently provides you with high-quality sound and a very flat response across a wide spectrum.
The Yamaha HS5 Powered Studio Monitors have two-response controls with each has detailed settings, allowing the user to adapt the sound to accommodate any room with any surface acoustics no matter the shape and size of the space.
The speakers can also accommodate a broad range of balanced and unbalanced sources like mixers, audio interfaces with XLR and TRS phone jacks, and keyboards.
Pros
Clean, accurate, and precise sound

Compact
Powerful
Overall flat response
Cons
High-inherent noise floor
Verdict
The key components that make up a great speaker, whether that be a computer speaker, a bookshelf speaker, or even studio monitors, are very clear across the board–clear, accurate sound and as little interference as possible.
These three units have those, although they're more of bookshelf speakers than something people who are well into years of mixing and producing sound would have at their home studios.
Nevertheless, if you've decided to go for studio monitors over computer speakers, that means you're after a specific quality of sound. In that case, despite the many different factors you'd need to consider including space and features, you'll probably want to get a unit that is as close to a studio monitor a producer would use as possible.
These speakers are great units, but if one of them were to make the top of the list of the best home studio monitors, then it would be the Yamaha HS5 Powered Studio Monitors–compact, lightweight, but still able to provide you with clean, clear sound.
Amazon and the Amazon logo are trademarks of Amazon.com, Inc, or its affiliates.