As an Amazon Associate we earn from qualifying purchases.
There are hundreds of different brands of speakers for PC's and TV's on the market. Choosing the right set of speakers can be a nightmare of flashy gimmicks like Bluetooth connectivity, USB slots and SD card slots amongst others.
If you are on a tight budget, there is nothing more disappointing when after buying your set of speakers and setting them up at home, you find the build quality is cheap and the sound quality leaves much to be desired.
This is where the Edifier R1280T bookshelf speakers come into their own, a competitively priced speaker set with an excellent build quality.
For those unfamiliar with Edifier, here is a bit of background of the brand.
Edifier was established in Beijing around May 1996. The company started off small and has since grown into a large global manufacturer and supplier of quality audio equipment.
They specialize in creating premium sound systems showcasing modern technological innovation with an eye for classic design at an affordable price.
The Edifier R1280T speakers are designed to fit well on a computer desk or TV stand. The wooden finish on the panels give the speakers a classic retro feel without looking out of place in the modern home.
No fancy digital LED displays or bright flashing lights, the speakers are simply designed with a single green LED which indicates the speakers are on and blink when you use the included wireless remote to adjust the volume.
To the side of the speaker, you will find three knobs in a vertical row, from top to bottom there is treble, bass and volume adjustments.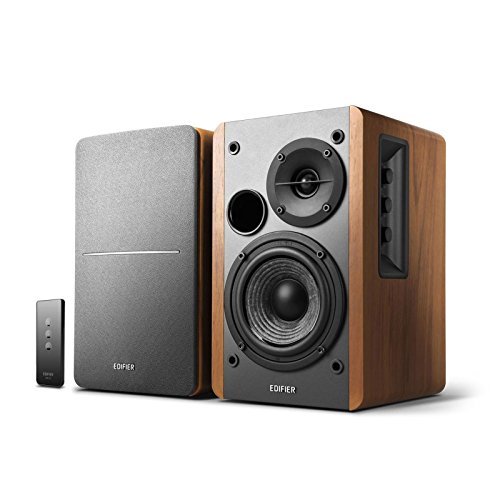 Features of Edifier R1280T Powered Bookshelf Speakers
The Edifier R1280T bookshelf speakers are box-shaped featuring a wood style panel build with a detachable grey cloth front panel. The speakers have a raised silver Edifier logo on the face which adds to the style and appearance of the speakers. The grey front panels can be removed to expose the speakers changing the sets appearance if you so desire.
Out the box, the setup of the R1280T is relatively simple if you are familiar with plugging speakers into stereo equipment you are pretty much sorted. If you are new to this kind of thing, don't worry, the speakers are pretty much plug and play so it won't be an issue.
The accessories which come standard with the Edifier R1280T speakers are a wireless remote control, a 3.5 millimetre RCA audio connecting cable, a dual RCA to dual RCA audio cable for easy connectivity to multiple audio sources and a handy user manual. The cables are not of the highest quality but serve their purpose adequately, you can always attach higher quality cables if you need to.
The specifications of the Edifier R1280T bookshelf speakers
The Total Power Output – 21 Watts x 2
Signal to Noise Ratio – 85 dBA
Speaker Input Sensitivity – 750mV 50mV
Speaker Distortion – 0.05%
Subwoofer and Bass Unit – 4 inches 6 Ohms
Dimensions – 5.75 inches Width x 9.5 inches Height x 7 inches Depth
Pros
Easily accessible control dials on the side of the speakers
Easy on the eye with good build quality and retro design
Includes a wireless infrared remote control for easy setup and volume control
Adjustable bass and treble
Great midrange sound
Connectivity to personal computers and other mobile devices
The RCA output provides additional connectivity
Flexibility for speaker placement
Cons
The Speaker grilles can dampen some high-end sounds prompting removal of the grilles
Speakers do not have wireless connectivity
Speakers can distort at very high volumes
The remote uses fingerprint style buttons
Remote is limited to volume up, volume down and mute, no bass or treble functions
Remote is prone to scuffing
There are no visual markers on the volume controls, only a plus and minus sign
It's hard to tell what volume level the speakers are because of the lack of visual markers
Summary
Overall the Edifier R1280T bookshelf speakers are a good set of quality speakers. The sound produced is really very good with a natural punchy feeling bass tone and treble. If you are on the market for a good quality, gimmick-free set of branded speakers at an affordable price, look no further than the Edifier R1280T bookshelf speaker set.
Verdict
For a budget-friendly set of speakers, it's hard to fault the Edifier R1280Ts sound. Used as PC speakers or linked to your widescreen TV they provide consistently smooth sound even at high volumes. Some of the accessories may not be of the highest quality, particularly the cables, but it's not a deal breaker in any way.
The build quality combined with the retro look and feel certainly adds to the appeal of the R1280T, and at the price, you will be hard-pressed to find similar quality entry level speakers offering the same power output. The Edifier R1280T bookshelf speakers are highly recommended.
Amazon and the Amazon logo are trademarks of Amazon.com, Inc, or its affiliates.