As an Amazon Associate we earn from qualifying purchases.
Looking for the right kind of equipment that will give you a full experience of listening to music? Then why not try studio monitors? Specifically, the IK Multimedia iLoud Micro Monitors.
Allow these studio monitors to satisfy every craving of your ear. If you are still not convinced, read on. We will be discussing the product's features, its advantages and disadvantages, and our honest verdict on this product.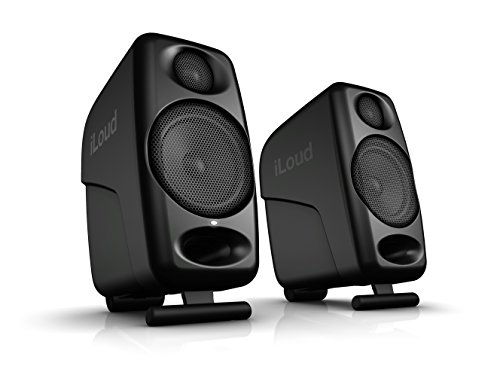 Features of IK Multimedia iLoud Micro Monitors
Provides a high-definition and high-quality monitoring in the tightest areas or wherever you are
Features a 50 W RMS Class D Bi Amplification to provide plenty of headroom and fast transient response
Features a customer composite woofer and bass reflex port for accurate bass response for as low as 55 Hz
Features a time-aligned crossover and 56-bit DCP to ensure the incredible flat frequency response
Includes a 1/8" stereo, Bluetooth inputs and RCA for a wide range of systems
Includes a selectable EQ correction in order to provide an ideal response in any acoustic environment
Advantages
The IK Multimedia iLoud Micro Monitors are highly recommended as it is a portable studio monitor that is great for reference and critical audio production listening. It has 4 high performances which are class D power amps with a 50 W RMS total power. In addition to that, it also has an extremely linear frequency response and is very precise to stereo imaging. Plus, it has an extended frequency response ranging from 45 Hz to 20 Hz. With the low and high-frequency controls of these studio monitors, as well as the shelf/desktop switch for adapting to different room placements, you can be sure that this will be a good buy.
The acoustic settings of the IK Multimedia iLoud for high shelf are 0 dB or -3 dB from 4 kHz up, for low shelf 0 dB or -3 dB from 250 Hz down, and for desktop (+ 3.5 dB between 1 kHz and 10 kHz and – 1 dB below 400 Hz. These studio monitors are designed to provide the ideal sound even in small areas. They are 2 very compact studio monitors that will take on the challenge of having to work in a smaller area, project studio or bedroom.
With its small footprint, the superior EQ processing DSP-based, as well as the excellent parts of the studio monitors, you can ensure that this product will deliver a frequency response that is flat and is ranging from 55 Hz to 20 kHz.
The iLoud has an outstanding and excellent imaging of the stereo and response of the transient and you can get all of this in a pair of monitors that are roughly the size of your ordinary desktop speakers. Talk about convenience!
Furthermore, these micro monitors are perfect for when you are producing music or "audio for video" in the comfort of your very own home or in a small studio. This studio monitor is so compact and durable that you can easily slip this into your travel bag.
Regarding the acoustic issues, these studio monitors are really sensitive to issues concerning the acoustic nature of the sound. These speakers can minimize the standing waves and reverberating fields – these are the reasons why the response of the bass is exaggerated. With these particular speakers, you can make mixing an easy task.
The ideal positioning for these studio monitors is that they should be placed nearer to each other as opposed to the traditional 38% Rule or equilateral triangle rule. Even if they are put close together, the image of the stereo will not be compromised. This is the typical scenario or situation when using a laptop or a personal computer. This is what they call the "sweet spot."
Disadvantages
These Micro Monitors, which are also considered as iLoud, are a very good product and it definitely sets the standards for quality studio monitors. So far, we have not experienced any difficulties with this product and it perfect for even a small studio.
Though there is nothing to say regarding its disadvantages, it is important to manage your expectations and be wary of manufacturing defects that could escape your notice. That is why, upon first use, it is necessary to check all components and functions to assure that the product is in top condition.
Verdict
If you are looking for a studio monitor that can work well in a small studio or at home or if you are looking for a studio monitor that is compact and durable, the IK Multimedia iLoud Micro Monitors is the one for you. It is very convenient for the user as you can easily transport and use it anywhere.
Amazon and the Amazon logo are trademarks of Amazon.com, Inc, or its affiliates.