As an Amazon Associate we earn from qualifying purchases.
Having a great audio setup can seem like an impossible task. There is a lot of different equipment that you might consider investing in to enhance your sound quality, but is all of that really necessary?
at a glance: our top 3 picks for DJ STUDIO MONITORS
Ultimately, there are certain pieces of equipment that can really improve your production and output levels. The best DJ studio monitors will ensure that you sound great at every gig and on every track that you lay down. Studio monitors help you to hear the sound more clearly so that you can identify precisely what you want to do with your mix.
Because this type of monitor is made to project sounds at a shorter distance, the frequencies are not as distorted, and this helps you to identify each aspect of the music very specifically. That is what matters most when using the monitors in an at-home studio.
When DJs use studio monitors in the field, your goal should be to have enough volume for the music to be carried without it becoming so distorted that it sounds terrible to your listeners. Finding a set that can do this well, however, can be hard.
QUICK OVERVIEW: OUR TOP PICKS FOR DJ STUDIO MONITORS
Image
Product

Our Top Pick

Yamaha HS Series HS5 Studio Monitor

High-Performance Drivers
Low-Resonance Enclosure
Adjustable Controls

View On Amazon →

Seismic Audio Floor and Stage Monitors

Small Footprint
Sturdy case construction
High range of sound frequencies

View On Amazon →

Rockville APM5B Studio Monitors

Sturdy Enclosure
Powerful System
Rubber Woofer

View On Amazon →
Best DJ Studio Monitors: Your Top Options
Today, we'll be presenting three of the top DJ studio monitors options of 2019. All three of these setups have something unique to offer; the right one for you will depend on how you intend to use the monitor!
1. Yamaha HS Series HS5 Studio Monitor
The first studio monitor that we are going to look at today is the Yamaha HS Series HS5 2-Way Studio Monitor. Yamaha is a very well known speaker brand, and this monitor is in line with both the reputation and quality that we can expect to find in a Yamaha item.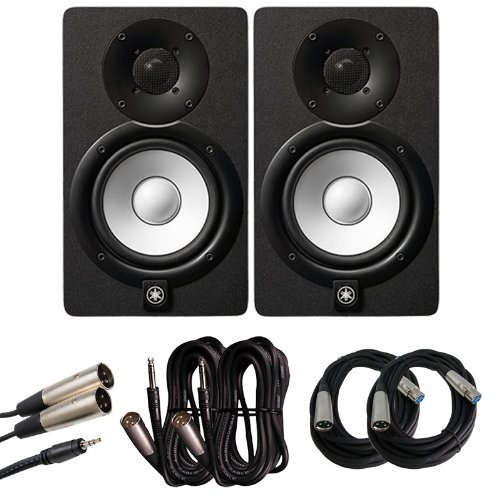 Features
The HS5 Powered Studio Monitor from Yamaha is from the high-end HS series, and it is a bi-amplified monitor that is known for how well it creates authentic sounds. The monitors can produce up to 70W of total output as well as frequencies up to 30kHz.
This two-way studio monitor set is powered by high-performance drivers that ensure fast and accurate sound production. The large magnets used in the circuit design of this studio set create an advanced system, and the entire enclosure is designed to reduce sound-killing resonances.
The enclosure is known as a low resonance enclosure. All of the cabinets used in the HS Series from Yamaha are designed to limit resonance, which allows more accurate sounds to be heard. The enclosure itself is made from MDF that is very dense, and the space in the enclosure ensures the right reflection of soundwaves.
This system has two features that help to control how you hear the sound in any type of room: room control and high trim response controls. Both of these features can be used to adjust the frequency, style, and production of audio so that it will suit the specific environment where you are using the monitors.
With room control, you can limit the low-end exaggeration that happens when the speakers must be placed near walls. The high trim function gives you flexible control of those higher-end frequencies.
This setup is a two-way, bi-amp studio monitor setup. There are a five-inch cone woofer and one-inch dome tweeter in the setup, and the XLR and TRS phone jacks allow for both balanced and unbalanced signal acceptance. The TRS is a ¼-inch line, and the cables that you need are included with the setup as well.
Pros
Includes all the cables that you need
Enclosure dampens unnecessary resonance and balances sound
Sleek, attractive design
Quality brand
Accurate, true sounds
Cons
Limited quality in 50 to 60 Hz frequency range
Driver not large enough for a wide frequency range
Heavy and bulky
2. Seismic Audio Floor and Stage Monitors
Next up, let's explore what the Seismic Audio Floor and Stage Monitors. These are a combination floor, stage, and studio monitor, so they're an excellent choice for those who want to be able to set up the same set of monitors for more than one use.
While they work well for DJs, they can also be used for bands, churches, drummers, and more!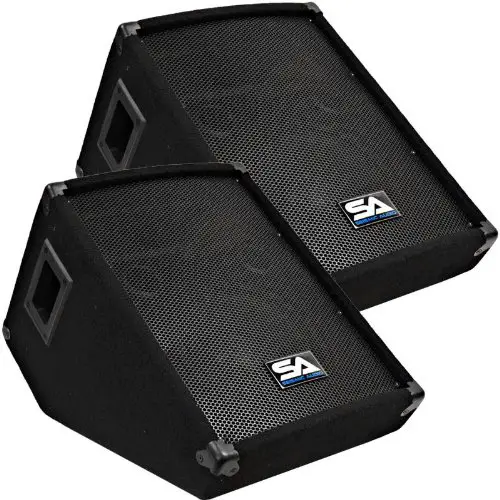 Features
These passive speakers are two-way, 10-inch audio speakers. The speakers are wedge-style speakers that are typically placed on the floor, but there are ways that you can mount these speakers to be used in an at-home studio setting if you really want to do that as one of the multi-purpose uses of these speakers.
Both speakers are equipped with four by eight piezo horn tweeter, and there are two ¼-inch inputs for ease of use. You will need to use your own cables and splitters as they are not included with this speaker set, but the set can be used with a wide variety of cables.
One thing that really stands out about these floor monitors is their very small footprint. The measurements for each monitor come in at 13.25 inches wide by 14 inches tall by 21 inches deep. Whether you're setting up on a small stage or at home, the size of the monitors is not so big that it becomes an inconvenience.
The speakers are wired at eight ohms, and the frequency range of the monitor is 45 to 20,000 Hz. Each monitor weighs about 22 pounds, so they are heavy but relatively average for a monitor in this price range and quality level.
The weight plus small size and carrying handles on these monitors make them relatively portable and easy to set up at any location as needed.
It's also nice that these monitors have good stability thanks to high powered magnets in the woofer circuitry as well as deep bass levels. If you want to be able to play a variety of music, the range of frequencies on this set will allow it.
Pros
Sturdy case construction protects the monitor
Great for gigs and moving around frequently
High range of sound frequencies
Great for a budget buy
Cons
Some audio accuracy errors
Low peak wattage
Low-end drivers
3. Rockville APM5B Studio Monitors
Finally, we'll explore the Rockville APM5B Studio Monitors. This pair of 5.25-inch, two-way active monitors are an excellent choice for your at-home studio or a smaller DJ setup for a few reasons, but you'll be blown away by the quality of sound that these Rockville monitors can create!

Features
The system includes all of the following jacks and outputs: ¼-inch and XLR combo input jack, high-speed USB slot, RCA input, and a 3.5mm output.
Let's start by talking about the enclosure on these speakers. The entire thing is made from high-quality MDF. Most of it is 0.5-inch thick while the front is double that thickness to ensure the best quality of sound and reduction of any sound errors caused by excessive resonance.
The MDF wood surface is also treated with baking paint which does additional dampening work to improve sound quality and consistency. There is a fluid, one-inch silk down tweeter grill protection cover on the setup as well.
The peak power on these studio monitors is at 150 watts, and the usual RMS power is at 75 watts. It's also interesting to note that this is a bi-amped setup; the highs are run at 25 watts while the lows come in at 50 watts. This gives a better balance and consistency to both ends of the frequency range without sacrificing on quality.
The tweeter voice coil has a one-inch diameter, and the bezel on the front of the tweeter prevents wave distortion as the sound is created and released. Additionally, there is a rubber woofer that also helps to eliminate any unwanted sound distortions.
Intelligent Design and Construction
The active monitor requires an included amp; the amp on this one is a D class amplifier. The system uses ADAU 1701 Digital Sound Processor software for the audio processing and TPA3116 for the amplification processing.
Both ADI and TI, the makers of these software designs, are high-quality creators that work with many top brands.
Pros
Offers a lot of clarity and punchy bass notes
Can be used straight out of the box
Sleek design style
Many different source inputs
Cons
Static at low volume levels
Not great for professional mixing
The Winner
Now that you've learned a bit more about each of the contenders among the best DJ studio monitors, it's time to decide which of these monitors is the smartest choice!
In our opinion, investing in the Yamaha HS Series HS5 Studio Monitor set is the right choice because of the high-quality product you get at a great, mid-range price. The HS series from Yamaha is known as one of the best studio monitor lines ever, and the HS5 is a respectable, middle-ground monitor from this series.
Depending on what kind of DJ activities you plan to use your monitors for, we hope that one of these sets will make sense for your needs. If you still haven't found the right set for you, don't give up! There are lots of quality DJ studio monitors out there that can be added to these ones.
Amazon and the Amazon logo are trademarks of Amazon.com, Inc, or its affiliates.