As an Amazon Associate we earn from qualifying purchases.
When you're shopping for the best sounding studio monitors, more expensive isn't always better. Whether you are a music enthusiast or a professional studio producer, the right monitor will help highlight details in your audio. In this article, we'll review some of the best sounding studio monitors, and we'll highlight the features that you should think about while shopping for one.
The Best Sounding Studio Monitors
Check out our top picks:
1. Adam Audio A7X Powered Studio Monitor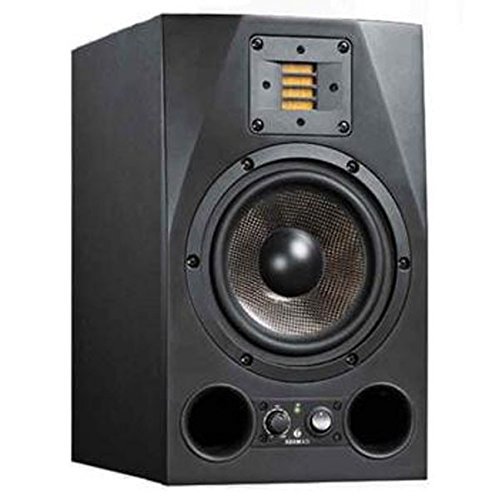 With a frequency range between 42 Hz to 50 kHz, this studio monitor will highlight all the details to help you enjoy exceptional audio quality. The 7-inch woofer is made of glass, rohacell, and carbon fiber to dampen noise and improve the acoustics.
With the X-ART tweeter, you'll enjoy extended frequency response. Thanks to this technology, noise and distortion will be minimized.
It features an advanced tweeter, so you can enjoy outstanding highs and mids, without ignoring your bass. A 50W A/B amp powers the German-made X-ART tweeter, while a 100W PWM drives the mid-woofer.
There are several controls on the front and back to help you customize the audio output. However, the power cables might fit loose, so you'll probably have to make a few adjustments. Due to the high price of this studio monitor, it might not be the best option for amateurs.
What We Like
High-end studio monitor with a 7-inch woofer.
The woofer dampens noise and improves acoustics.
Wide frequency range to cover low, mid, and high-end frequencies.
Several controls to adjust the audio quality.
What We Don't Like
2.     KRK RP5 Rokit 5 G4 Professional Bi-Amp 5″ Powered Studio Monitor Pair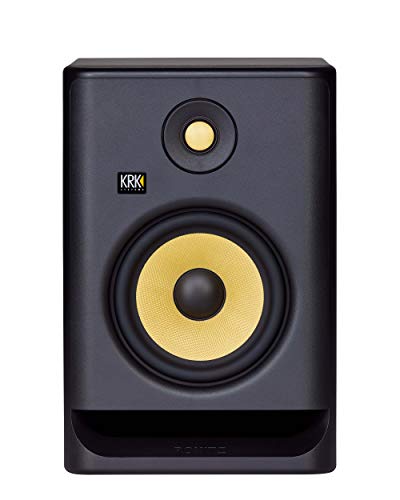 For a decent price, this pair of studio monitors will help you enjoy better acoustics with full details and minimal distortion. The bi amplifier studio monitor is an excellent choice for home and professional studios.
The 5-inch woofer and 1-inch tweeter work together to improve the sound quality. The studio monitor features a Class D power amp for better output. It's designed to cover a frequency range of 43 Hz to 40 kHz to grab all the details.
Minimum distortion is enjoyed thanks to the low resonance enclosure. The front-firing port extends accurate bass reproduction on low-end frequencies.
Music enthusiasts will love the LCD, which produces a visual imitation of the equalizer settings. Moreover, the monitors come with 25 preset settings to help you adjust the audio in all acoustic environments. However, more professional users might be put off by the lack of customization that other expensive studio monitors offer.
What We Like
A pair of studio monitors for excellent audio quality,
Enclosure to minimize resonance.
LCD visual of the equalizer settings.
Bi amplification system for better acoustics.
What We Don't Like
Fewer controls to customize the audio output.
3.     Presonus E4.5-4.5″ 2-Way Near Field Studio Monitor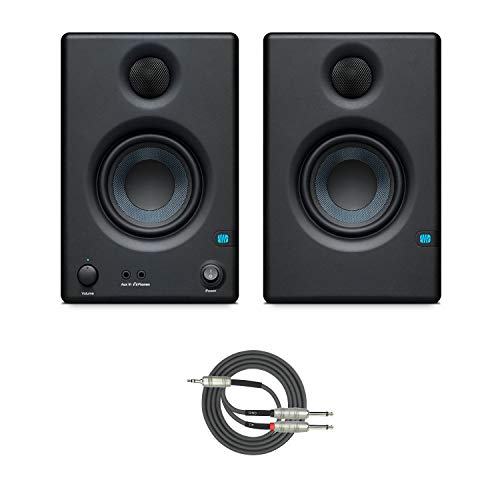 If you're on a tight budget, you need to check out this pair of studio monitors. Featuring 4.5-inch Kevlar woofers, these composite studio monitors will cater to the needs of amateur and professional studio recorders. Moreover, they come with a 1-inch tweeter that delivers a wide sweet spot.
Each studio monitor is powered by a 50Watt amplifier, which is weaker than other studio monitors but also way more affordable. The plastic knobs allow for fine-tuning the audio output for midrange, high frequencies, and low-end tunes.
This is an excellent choice for a small recording studio with a decent frequency range of 70 Hz and 20 kHz. However, the low-end frequencies might be a bit distorted. Nevertheless, the quality of clean sounds makes this studio monitor good value for money.
What We Like
Composite studio monitors at an affordable price.
Knobs to fine-tune the audio quality.
Various types of audio inputs.
What We Don't Like
Mixing tracks can be a bit tricky due to the bass.
Why Should You Invest in the Best Sounding Studio Monitors?
In your home or professional studio, one piece of equipment can have a significant effect on the quality of the audio output, your studio monitor. Here is why you should invest in the best sounding studio monitor.
Accurate audio quality at all the available frequencies. Speakers can't provide this kind of accuracy, so the true perception of the music you're mixing is never accurate.
While mixing tracks, the right studio monitor will help you detect noise that should be eliminated to improve the quality of your audio.
If you're not mixing, studio monitors produce a full audio image to help you enjoy the music you're listening to.
How to Choose the Best Sounding Studio Monitor
Picking the right studio monitor isn't an easy task, especially with hundreds of good models available. Here are some features that will help you choose the right one for your home or professional studio.
Budget
Studio monitors come in high or low-end models. If you're on a tight budget, you can still get a good studio monitor that helps you to enjoy all the details in the audio you're mixing or listening to. Professional music producers would probably like to spend more to enjoy the exceptional sound quality that highlights all the features.
Woofer and Tweeter
When you're thinking about the woofer and tweeter of your studio monitor, you need to make sure that they're made of the right materials. Carbon, wood fibers, and plastic woofers dampen the sound to improve audio reproduction so you can enjoy clear and detailed tones.
A big woofer and tweeter will provide clear sounds that fill the room. If you have a small recording room or studio, then you can skip the big studio monitor that would definitely cost more.
Passive or Active
Passive monitors need an amplification system to produce good sound quality, so they're not that practical. Most of the best sounding studio monitors are active, so they're ready for use.
Subwoofer
To enhance the quality of low-end frequencies, you might need to add a subwoofer. However, if your studio monitor has a special bass control setting, you won't need this addition.
Studio monitors with exceptional bass equalizer quality are more expensive because they're straightforward to use. However, some people still prefer to buy a separate subwoofer to benefit from the customization experience.
Conclusion
In addition to the price, there are other features that you should think about when you're shopping for studio monitors. The three products on our list are suitable for all budget constraints, so you can enjoy decent audio quality regardless of the amount of money you're willing to spend.
Amazon and the Amazon logo are trademarks of Amazon.com, Inc, or its affiliates.