As an Amazon Associate we earn from qualifying purchases.
There has been a lot of innovations in the music and entertainment industry – from the way they are created to the manner in which they are enjoyed. These used to be very straightforward processes but with the technology that is at anyone's disposal these days, you can create something that is both tasteful and entertaining. You will be able to do so with just a few functional devices.
If you are into the business of creating and enhancing audio files, you probably are acquainted with studio monitors. This device is designed to help you enhance any audio file by allowing you to hear the sound in a clearer and more defined manner.
Studio monitors let you hear even the most transient detail of any audio file, which in turn allows you to enhance it accordingly. Sound is a very important aspect of any multimedia item. If you want to improve the quality of your projects, you need to level up the technology that you are using to create them.
That being said, it is noteworthy that a good pair of studio monitors can really be helpful for you in achieving the results that you want. However, it does not necessarily mean that you need to invest in something very expensive. Products like the M-Audio AV32 Compact Studio Monitor Speakers are available in the market and they can give you the quality you deserve at a reasonable price.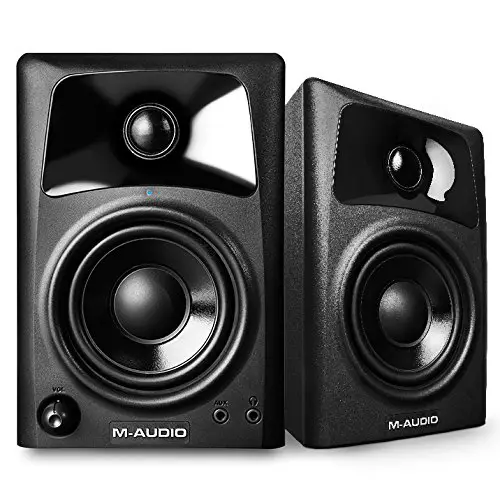 Key Features of the M-Audio AV32 Compact Studio Monitor Speakers
The number of speaker designs and models that are available in the market today is uncountable. There're just hundreds of different makes and models that you can choose from, making it very challenging to find one that actually suits your speaker needs.
You need to find a brand that you can trust and M-Audio is a popular one. It may not be as mainstream as the huge electronic device companies out there but it's very much consistent with the quality of products it designs. A perfect example would be the AV32 Compact Studio Monitor Speakers.
Compact desktop monitor designed for small home studio with stylish black vinyl laminate finish
Incredible sound quality delivered through uncovered speaker cones
Amplifier uses 10-watt per channel
3-inch woofers with polypropylene coating for improved bass sound
RCA inputs for maximum connection with gaming systems, mixers, and other DJ gears
Superior compatibility with any mobile electronic devices
Pros
Never judge a book by its covers. In the same manner, don't judge the AV32's ability to produce excellent sound quality with its compact design. It may be small and slim but its ability is superb. It uses 3-inch woofers that have been coated with polypropylene material to improve the bass sound quality.
It also has 1-inch ferro-fluid cooled silk cone tweeters and 10-watt per channel amplifiers. All of these features work together to bring you studio-quality sound like no other. The uncovered speaker cones help deliver the amazing sound.
The monitor itself is designed with RCA inputs that allow you to connect it with gaming systems, DJ gears, and mixers. Furthermore, with its Bluetooth features, you can hook it up with your mobile gadgets and other electronic devices. Aside from producing amazing sound, it also looks rather stylish.
It comes with a stylish black vinyl laminate finish that makes it an excellent display item at home or inside your small home studio. It is built with great precision, using highly durable components to guarantee long-lasting usage.
Cons
There is absolutely no doubt that the AV32 can produce excellent sound. It also has a very decent design that puts it at par with a lot of studio monitors at the same price point. However, for those who have already tried the AV40s, this model is considered as a downgrade. It still has the quality that M-Audio compact studio monitor speaker has but not as premium as the AV40s.
Verdict
For those who have tried other M-Audio products before, you will surely love the M-Audio AV32. It may not be their flagship studio monitor speakers system but it still shows the quality of products they offer. The sound is great, the design is impressive, and the construction of speakers is superb.
The quality it displays is something that you can only see in high-end brands. It is ideal for small home studio use. It's great for entertainment purposes and can also be used for recording and creating multimedia projects.
Comparison
The AV32 may be a downgrade from the popular AV40s designs but it is still a pretty decent model, considering its features and its price point. Another example of an entry-level studio monitor speakers system with very decent sound at a reasonable price is the PreSonus Eris E4.5 studio monitors. However, if you are looking for a smaller home studio, the M-Audio AV32 Compact Studio Monitor Speakers is a better choice.
Amazon and the Amazon logo are trademarks of Amazon.com, Inc, or its affiliates.