As an Amazon Associate we earn from qualifying purchases.
Music is probably something that all kinds of people enjoy. Although some people may have their own preferences, there is not a single person in this world who doesn't have his or her own favorite song. It is an integral part of people's lives and it plays a very important role in terms of shaping their personality.
This is the reason why the entertainment industry is so huge. It has evolved a lot especially in the last couple of decades as the innovation in the technology used in this industry has tremendously changed for the better. There are things that seemed to be impossible in the past that many professionals are able to do nowadays.
For example, in the past, you needed an expensive professional installation of sound or audio enhancing system in order to produce high-quality sound or audio file. But today, it is possible even with just simple instruments that you can set up at home. One of these instruments is studio monitor.
They are just like the speakers that you have in your home entertainment system; only they are mainly designed for creating and enhancing sound recording. They are available in many models and the PreSonus Eris E4.5 Studio Monitors is one of the bestsellers today.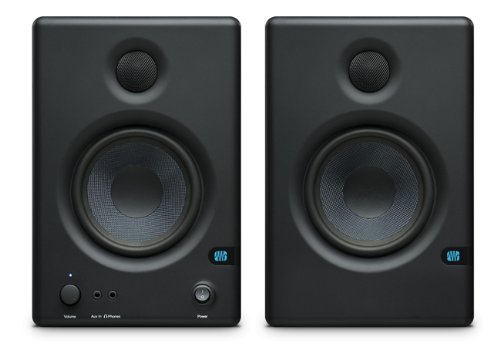 Key Features of the PreSonus Eris E4.5 Studio Monitors
PreSonus may not be a mainstream brand for studio monitor speakers but it definitely makes excellent designs. A lot of people have already been impressed by the features of its products and considering the very reasonable price, they really are impressive. The brand has produced quite a number of great designs including the PreSonus Eris E4.5 Studio Monitors. Aside from producing excellent sound quality, it also comes with all these amazing features:
Excellent features for mixing, making it an ideal studio monitor speaker
Reliable 4.5-inch Kevlar Low Frequency Transducer
Incredible 50-watt amplifiers
Accurate mixing manipulation with its Acoustic Tuning controls
Superb sound quality with RF Interference Output Current Limiting feature
Pros
It's really easy to get fooled by size and price and you may just do well with the PreSonus Eris E4.5 Studio Monitor. It is compact and tiny but it does produce sound of really amazing quality. It boasts incredible 50-watt amplifiers paired with the 4.5-inch Kevlar Low Frequency transducer that allows you to create amazing studio-quality sound.
All of these features and properties make it an ideal studio monitor for mixing and for creating incredible beats. It has well-designed Acoustic Tuning Controls that allow you to manipulate the sound and create a piece of art.
The RF interference output current limiting also provides a lot of help in maintaining the excellent quality of the sound you create. The PreSonus Eris E4.5 2-Way Powered Studio Monitors work not only as a replacement for your computer speakers or an extension of your entertainment set, but also this is the speaker system you need to do professional acoustic adjustment.
It has everything you can possibly need to complete any mixing tasks and it's very user friendly so you won't have any trouble using it. Professional disc jockeys and mixers can attest to the quality of this studio monitor pair, which is very unexpected considering its price point.
Cons
The overall design of the PreSonus Eris E4.5 Studio Monitors is very well constructed. The reviews that it received from the customers who left their feedback online are really good. However, it doesn't mean that it is completely free of flaws. It delivers great sound but it can be a little short on the bass. Furthermore, the on/off switch is not strategically placed.
Verdict
The number of various studio monitor designs available in the market today is uncountable, giving the consumer a lot of options to choose from. There are only a very select few that actually provide you with the quality that you and your money deserve.
One of these products is the PreSonus Eris E4.5 2-way Powered Studio Monitors. It is functional and it is very consistent in producing really amazing sound, which is something that you don't normally expect from a studio monitor model at this price point. In other words, it is a practical choice, especially if you're looking for something affordable with a decent quality.
Comparison
If you are looking for the best studio monitors that you can get your hands on at a very decent price, two of the best brands and models that you can totally check out are the PreSonus Eris E4.5 Studio Monitors and the Yamaha HS8 Studio monitor.
Just the price gap alone would tell you that the latter is far more superior than the former but it doesn't mean that you need to spend a fortune to get a decent pair of studio monitors. The PreSonus Eris E4.5 Studio Monitors are still a good choice and deliver a very good performance.
Amazon and the Amazon logo are trademarks of Amazon.com, Inc, or its affiliates.