As an Amazon Associate we earn from qualifying purchases.
The music industry has grown a lot in the past few decades and the technology that is available today allows people to do things that weren't even imaginable just fifty years ago. Before, you needed sophisticated and very expensive equipment to create or enhance sounds for a record or even for movies.
But today, you can do so using just a few very simple equipment that you can set up at home in your very own room. Things like studio monitors are designed to make sound mixing and recording a lot more convenient. They have all the features that allow you to produce results that are of professional-level quality.
They are available in a lot of different makes and models. However, if you are looking for the best, you'd be better off with the Yamaha HS8 Studio Monitor. From the brand itself, you know you can only expect great quality of whatever you create using this studio monitor.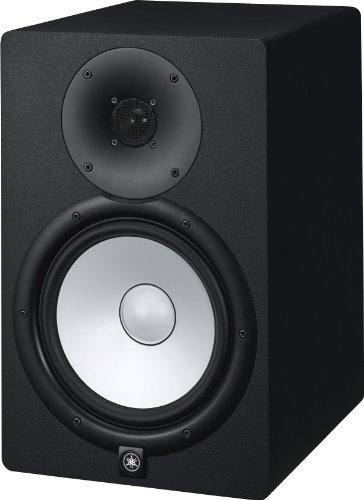 Key Features of Yamaha HS8 Studio Monitor
Yamaha is such a huge name in the industry that it doesn't need any introduction at all. It manufactures a wide array of gadgets and devices and that includes studio monitors. The name is almost synonymous to quality and excellence – and that's exactly what you can expect from the HS8 Studio Monitor. It is designed for excellent performance. It is shown in the quality of its construction and the fine craftsmanship of every feature that is available at your disposal.
Exclusive design for newly-developed transducers that are intended for smooth response and signal reproduction accuracy
High-performance amplifiers with bi-amp design dedicated for the tweeter and woofer for an incredible sound production
Delivers high-resolution sound over a wide bandwidth
State-of-the-art Noise Reduction Technology to create incredible sound clarity
Smart Low-resonance Enclosure Design for improved sound delivery
Superior connectivity; compatible with a wide array of electronic gadgets you use
Pros
With the demands of the music industry these days, using studio monitors of mediocre quality is simply unacceptable. If you are looking for something that guarantees perfect quality and if budget is not an issue, you should just go directly to the brand that you can trust and Yamaha never disappoints.
The HS8 Studio Monitor is one of its popular products and it is designed for optimum performance. It has a newly-developed design for its transducers that allows it to achieve really smooth response over an incredibly wide bandwidth while ensuring the accuracy of the signal it produces.
It also sports high-performing amp units that come in a bi-amp design, which means there's a dedicated amp each for the tweeter and the woofer. This design gives it the ability to deliver high-res sound that has exceptional flat response over a wide spectrum of sounds.
The speakers have a low-resonance enclosure design that removes resonance and increases accuracy of the sound it reproduces to the maximum. Furthermore, it comes with a state-of-the-art noise reduction technology that makes a really significant difference when it comes to the clarity of the sound it produces.
Another good thing about the HS8 Studio Monitor is its superior control and connectivity. All of these features make it an ideal studio monitor to use for creating and enhancing music.
Cons
Based on the reviews it got from the feedbacks online, the Yamaha HS8 Studio Monitor is definitely a great pair of speakers. It produces great sound and it has all the amazing features that let you create or enhance excellent music. In fact, it is so impressive that it almost doesn't have any flaw. It does have a minor one, though. You would have to provide all the cables because it only comes with a power cord.
Verdict
Finding a good studio monitor with all the features you need can really be a challenge, especially considering the hundreds of options that are available in the market. If this is your first time, it's probably going to take you a lot of time to figure out which one is worth buying.
However, if you already have an experience, then you should know better than not going to Yamaha straight as your first choice. The HS8 Studio Monitor is one of the best products they have in the market and it has all the features you are expecting from a functional studio monitor.
Comparison
Yamaha is already a very popular brand and nothing ever comes near in comparison. When it comes to the budget, there will certainly be a lot of other pleasing choices, considering how expensive theYamaha HS8 Studio Monitor is. For example, the Mackie CR Series CR3 is a very good choice for someone with a limited budget. However, if money is not an issue and quality is certainly the priority, then Yamaha will always be a better choice.
Amazon and the Amazon logo are trademarks of Amazon.com, Inc, or its affiliates.