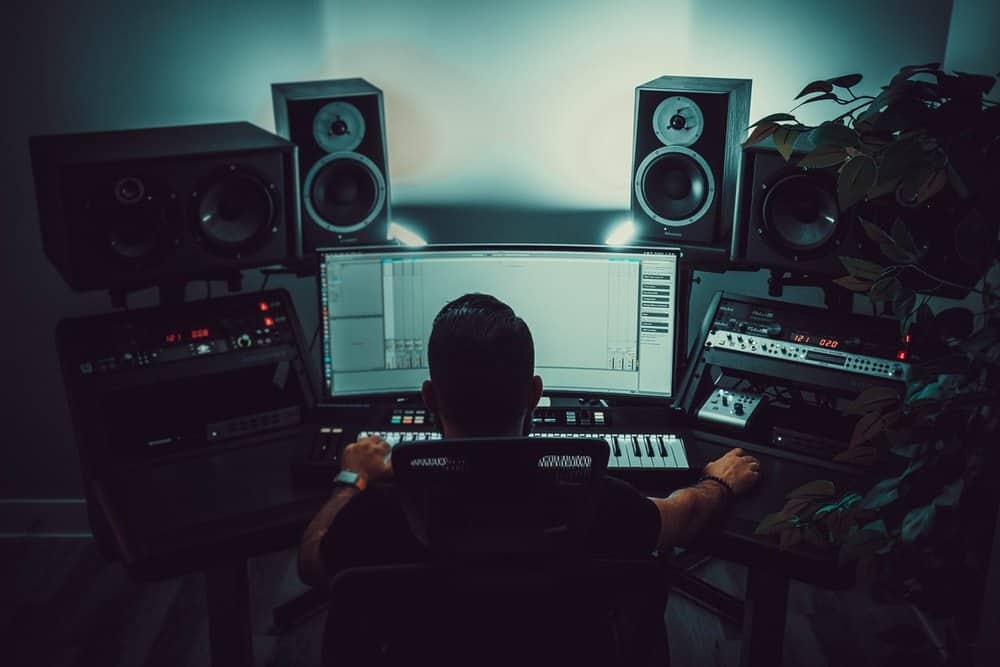 As an Amazon Associate we earn from qualifying purchases.
If you want to ensure that the final music sounds the best to your listeners, you need to pick the best quality studio monitors. Here you will learn about the five best studio monitors under $2000. In crafting this list we have set the following to criteria for the best monitors.
Studio monitors are probably the most important equipment for any professional musician and recording studio. The quality of the monitors will influence how the music will sound to the listeners. This is not an understatement that studio monitors could make or break your music.
Online Reputation: Every manufacturer claims to offer the best sound quality. But when put to test sometimes equipment fails to deliver. The actual quality of the studio can be judged through online reputation.
Price Cap of $2000: This is the maximum amount that a professional should spend on professional quality audio studio. Anything above this amount is overkill.
One Brand per List: The list is limited to one brand per list to give a greater variety for our valued readers.
Best Studio Monitors Under $2000
Let's take a look at the five best studio monitors under $2000.
Adam Audio A7X Powered Studio Monitor is one of the top-rated equipment that has received rave reviews from customers. Made in Germany to the precise tolerances, the mid-priced studio monitor boasts of the best sound processing technologies. This near-field studio monitor boasts of a two-way design that produces uncompressed high-frequency sound with excellent transient response and clear mid-range.
With this studio monitor, you won't need an equalizer. The studio monitor produces continuous detailed sounds with transparent highs and upper mids. The combination of 100W PWM Woofer amplifier along with a 50W X-ART tweeter amplifier (Class AB) results in an impressive SPL of 114 dB max at one meter. The front-baffle bass reflex ports and bass driver result in a controlled low-end sound. This is a highly affordable monitor that is perfect for commercial and broadcast studios as well as home studios.
Key Features
Brand Name: Adam Studio
Item Model Number: A7X
Near Field Active Studio Monitor
100W PWM Woofer Amplifier
50W X-ART Tweeter Amplifier
Max SPL: 106 dB
Frequency Response: 42 Hz to 50 kHz (max)
Carbon Fiber Material
2. Neumann KH 120 A – Active Studio Monitor
Neumann KH 120 A – Active Studio Monitor is yet another powerful studio monitor. The German-based company has been offering the best equipment to musicians for over 83 years. This excellent studio monitor by the renowned company is a true gem in the mid-priced range segment.
The active monitor speakers generate one of the most accurate sounds. And with a perfect 5/5 rated reviews on Amazon, the product has certainly won the hearts of customers. The speaker can serve both as a near-field loudspeaker and a rear loudspeaker.
The studio speaker features high-frequency and lo-distortion reproduction. This speaker boasts of the latest sound processing technologies such as the Elliptical Mathematically Modeled Dispersion (MMD) that result in an excellent off-axis response. The front panel ports are large that results in reduced bass compression and also allow you to easily mount the monitor even in tight places. The studio monitor is best for tracking and mixing sound in broadcast, music, and post-production studios.
Key Features
Brand Name: Neumann
Item Model Number: KH 120
Near Field Active Studio Monitor/Rear Loudspeaker
50W Woofer/Tweeter Amplifier
Max SPL: 114 dB
Frequency Response: 52 Hz to 54 kHz (max)
Anthracite Material
3. JBL LSR6328P Nearfield Active Studio Monitor
If you have the money, you should go for JBL LSR6328P Nearfield Active Studio Monitor for accurate sound output. The studio monitor is worth every cent for big commercial studios due to powered amplifiers.
The bi-amplified studio monitor boasts of a linear spatial reference. The METAlliance® certified and THX PM3 approved studio monitors provides greater clarity due to flatter-off-axis-response. The Remote Mode Correction allows electronic control of different room modes. Moreover, the Differential Drive ® technology allows dynamic braking for minimal power compression and continuous low-frequency sound.
Another noteworthy feature of the high-priced quality studio is the Linear Dynamics Aperture port design. The specific design helps in reducing port compression and turbulence.
Key Features
Brand Name: JBL
Item Model Number: LSR6328P
Near Field Active Studio Monitor
250W Woofer
120W Tweeter Amplifier
Max SPL: 96 dB
Frequency Response: 50 Hz to 20 kHz (max)
Titanium composite high-frequency transducer
4. Focal Twin6 Be
Focal Twin6 Be is another high-priced studio monitor that has a range of terrific features. The 3-way powered studio monitor has a 50W woofer and 100W Beryllium inverted dome tweeter. The product is particularly great for commercial studios and home studies alike.
One of the things that customers like about this product is the bass in the music that is well controlled. Moreover, most customers have raved about excellent reproduction of the high end and mids resulting in accurate sounds.
The three-way design allows you to experience a unique sound that is unlike produced by other mid-price studio speakers. One of the woofers outputs the bass and the other deal with treble and mid responses. The controls at the back allow you to select which woofer to output high end and which to output low-end sound.
The particular design of the studio monitor allows a high sound pressure level (SPL) while also providing stable tonal balance. The 6.5'' woofers reproduce a wide range of frequencies starting from 40 Hz to 40 KHz. This helps preserves the signal dynamics and keep the sounds original and transparent.
Key Features
Brand Name: JBL
Item Model Number: LSR6328P
Near and mid-field listening environment
50W Dual Woofer
100W Tweeter Amplifier
Max SPL: 115 dB
Frequency Response: 40 Hz to 40 kHz (max)
Beryllium Inverted-dome Tweeter
5. Yamaha HS5 Powered Studio Monitors
Yamaha HS5 Powered Studio Monitor is a low-priced studio monitor that provides excellent value for money. The bi-amplified studio monitor delivers suitable quality audio performance.
The powered monitor boasts of features that allow you to match the sound using Mid EQ, Room Control, and High Trim control switches. You can select MID EQ switch for midrange boost and flat response. Moreover, you can also control response for high-range frequencies and compensate for low-end exaggeration that generally occurs when the speakers are placed in the corner or near walls.
Yamaha studio monitor performs excellently in handling harmonic distortions. The studio monitor starts to rise rapidly around 100 Hz where providing excellent sound reproduction. This monitor also responds great to Sonarworks calibration transforming mid-heavy sound to neutral tonality.
Key Features
Brand Name: Yamaha
Item Model Number: HS5
Near-field listening environment
70W output
Max SPL: 102 dB
Frequency Response: 54 Hz to 30 kHz (max)
How to Select the Best Studio Monitor?
Selecting one studio monitor from the above list may seem daunting when all of them seem to offer the best value for money. So, how do you go about picking the right one for you?
The first thing that should consider is your budget. The above list covers different price ranges so you can find a speaker that meet your budget and needs.
Generally, higher-priced monitors have more features as compared to lower-priced monitors. However, you should not opt for the highest-priced speaker. Find out the features that you want from a studio speaker before buying one. For instance, small music studios and home studios will generally not need a subwoofer since the studio monitors will generate a suitable amount of low-frequency sound. For small studios, subwoofer can in fact reduce sound accuracy.
Lastly, the tweeter and woofer size should be a consideration when buying a studio monitor. The general convention is that the bigger the better. But this is not necessarily true. Larger sized tweeter and woofer does have more capacity to handle a range of frequency. However, the material and the build quality is also an important consideration as they influence the quality of sound. You should consider tweeter and woofer with fiber carbon material since it results in the best sound.
References
Amazon and the Amazon logo are trademarks of Amazon.com, Inc, or its affiliates.