As an Amazon Associate we earn from qualifying purchases.
Are you on the lookout for a perfect pair of headphones, quality enough for professional use? Finding a top-quality of professional headphones can often be tough with so many brands on the market, each competing with the other. We have done our research and have been able to find 3 of the best studio monitor headphones currently on the market.
Our reviews should help you, and at the same time hopefully, give you some inspiration to find the perfect pair of headphones for your music.
Best Studio Monitor Headphones Reviews
OneOdio Studio Monitor and Mixing Headphones

We start with the studio monitor and mixing headphones by OneOdio. These are a very highly praised pair of headphones which offer some nice features. We take a look at them in more detail below.
Pros
Exceptional clarity
Comfortable
Deep, accurate bass response
90° swivel ear cups
Professional grade ear pads
Detachable cable
Excellent sound isolation
Cons
Some earphones don't seem to be balanced with one side paying louder than the other
Summary
If you are looking for a professional headphone, capable of mixing and producing high-quality sound, the studio monitor headphones by OneOdio will not let you down. These have been made with quality materials, meaning they offer superb quality.
High-Quality Sound
These OneOdio headphones feature high-power drivers which are capable of delivering excellent sound, including bass. This makes them ideal for DJs using digital mixers, mixer panels, turntables, monitoring in recording studios, film production, radio and much more.
Foldable Design
The studio headphones also feature a very adjustable fit. This is because they are flexible and will adjust to fit any sized head. Both left and right ear cups can also be rotated for single-ear monitoring. When you are finished with them, they can easily be folded flat and taken around when travelling. As these headphones are so comfortable, they can be worn for long working sessions.
Durable Design
These headphones feature a very durable design. They are composed of hard plastic, painted in black matte and coated with a glossy finish, with some parts featuring a rubbery feel. They are capable of daily use and lasting a good amount of time.
LyxPro HAS-10 Studio Monitor and Mixing Headphones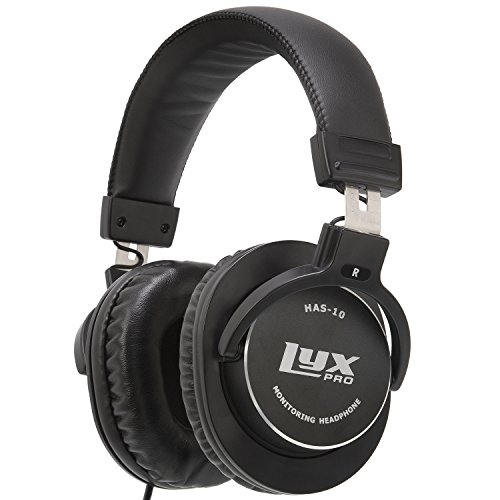 The second pair of studio headphones featuring on our list is the HAS-10 Monitor and Mixing headphones by LyxPro. These are another pair of headphones which are fit for professional use.
Pros
Closed-back style for live monitoring and mixing
Rotatable ear cups
Leather headband
Aluminum ear shells
Comfortable leather ear pads
Balanced sound
Cons
Reports that these headphones didn't last and broke after a few months
Summary
LyxPro has created a very professional pair of headphones which are perfect for all music lovers. These feature a very comfortable design making them great for long recording sessions.
Zero Sound Bleed
There is nothing worse that sounds bleed when it comes to mixing. Thanks to the closed-back design of these headphones, no sound bleed is guaranteed. This makes them the perfect choice for professional DJs, recording artists as well as the avid music lover.
Clean, Crisp Sound
If you want good sound, these headphones will not let you down. These headphones not only keep out other noise but provide the highest-quality sound. This is thanks to their 45-mm neodymium magnet drivers, which achieve a level of honest, clean audio representation
Comfortable
To work with professionals, you can imagine these headphones will feature a pretty favorable design right? That's correct. With a leather stitched headband together with soft foam and leather ear pads, these lightweight headphones fit onto the user's heads like a glove. Stainless steel construction ensures many years of use.
For an even better-personalized fit, the 180° rotatable ear cups can be adjusted to suit your size.
Audio-Technica ATH-M50x Studio Monitor Headphones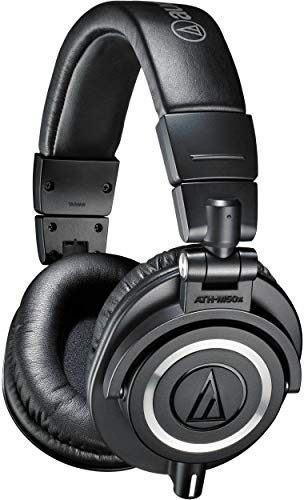 The third and final pair of headphones on our list is the ATH-M50x studio monitor headphones by Audio-Technica. These are another professional style of headphones which are great for live recording work and personal use.
Pros
Clear, clean sound
Excellent sounds isolation
Comfortable fit
Detachable cables
Robust construction
90° swiveling ear cups
Collapsible
Durable
Cons
The headphone's cord broke not long into ownership
Summary
If you are serious about your music, then you will need a pair of professional headphones that will do you justice. The Audio-Technica ATH-M50x headphones are truly impressive. They feature accurate sound and are a joy to wear thanks to their comfortable design.
Exceptional Clarity
With these headphones, the sound playback is outstanding. With an extended frequency range and deep, accurate bass response, these headphones are the perfect choice for professional recording sessions. They produce fantastic sound clarity, and you will not want to take them off when listening to your favorite music.
Comfortable Design
Thanks to a comfortable design featuring leather and soft foam ear pads, these headphones are great for hours of use. They also feature 90° swiveling ear cups which allow for single monitoring. The headband of the headphones is also adjustable, giving the user more chance of an individual fit.
Extra Accessories
With these headphones, you will have included a detachable 1.2m-3.0m coiled cable, as well as a detachable 1.2m straight cord.
Which are the Best Studio Monitor Headphones for Me?
We believe all the studio monitor headphones on our list are capable of guaranteeing long-term studio use, as well as personal use.
If you are shopping on a budget, however, and want to find the cheapest option available, there are two pairs on our list which will be best suited to you. The OneOdio studio monitor headphones as well as the LyxPro HAS-10 studio headphones are not too expensive, and therefore more suited to those shopping on a budget.
Amazon and the Amazon logo are trademarks of Amazon.com, Inc, or its affiliates.