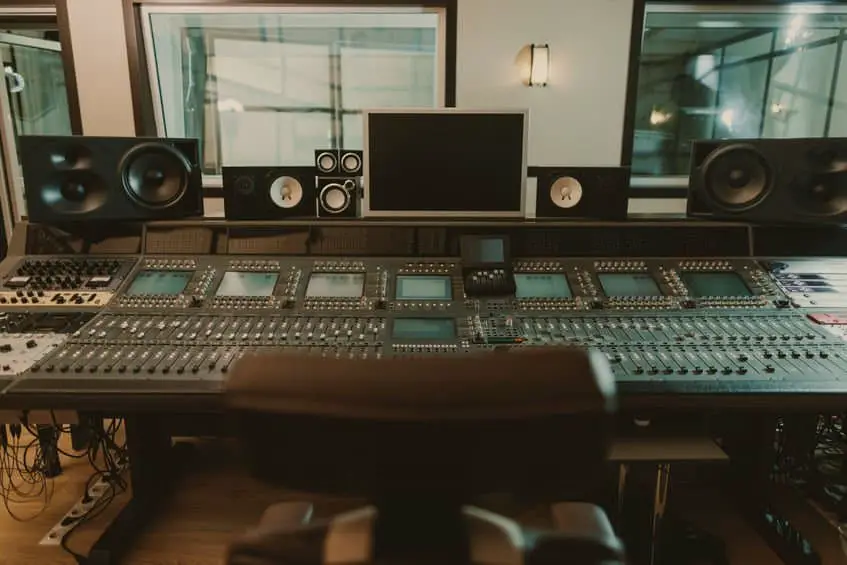 As an Amazon Associate we earn from qualifying purchases.
5.1 studio monitors give you an excellent surrounded experience. However, finding the best one in the market might be a difficult task.
If you're looking for the best 5.1 studio monitors, then you're the right place! Today, I'm going to review the best options that you can find out there. Let's dive in!
Top 5.1 Studio Monitors Available in the Market
Yamaha Hs8 Studio Monitor
Kicking off the list with one of the biggest names in the music gear industry. The Yamaha Hs8 studio monitor is an all-round perfect option for a 5.1 surround system for studios.
The studio monitor is available in both black and white colors to match the style of your studio nicely. Also, you can choose between different sizes, styles, and audio configurations to suit your needs.
The studio monitor offers excellent performance with quality features at a fair price. This makes it a great value for money and an all-round ideal 5.1 surround studio monitor.
It comes with an 8-inch cone with a dome tweeter of about 1 inch. They help in producing a crisp bottom-end sound at all output levels. They also reduce sound distortion as much as possible.
Yamaha also developed the transducers used in these studio monitors. This makes them much smoother and produces a more natural sound.
Pros
Excellent value for money
Reduce background noise efficiently
Produces natural and smooth sound
Available in different colors and sizes
Cons
A bit tricky to synchronize volume between different speakers
Neumann KH 120 A Active Studio Monitor
Neumann has made a name for itself by excelling in the microphone manufacturing industry. However, their take on making studio monitors seems like a solid success!
This active studio monitor offers outstanding audio while staying compact, durable, and portable.
The aluminum cabinet is designed to minimize resonances and disparate heat efficiently. This helps the speaker to maintain its color with prolonged use.
The studio monitor is amplified with two 50 watt speaker systems and a 5.25-inch woofer. Additionally, it has a 1-inch titanium dome tweeter for excellent acoustic ambiance.
Despite all their merits, the product is considered quite pricey for the average user. However, if you use Neumann's microphones, you'll know the level of precision and quality you're opting for.
Pros
Non-resonant aluminum cabinet for maximum heat dissipation
Bi-amplified sound systems with an excellent long-throw woofer
Versatile speakers that can work as a rear and near field in surround systems
Cons
Neumann's accessories and adapters are very expensive
JBL Professional LSR305 First-Generation Studio Monitor
Another audio gear giant graces the list. This studio monitor is among the most successful ones that JBL ever created. Surprisingly, it comes at a fraction of what other competitors on the market cost.
However, don't let the lower price tag fool you. The LSR305 is a phenomenal piece of audio gear. It looks good and sounds even better!
The speaker comes with an increased detail of higher frequency sounds. This allows you to hear your recordings in greater depth and experience every little detail in it.
Additionally, the studio monitor is exceptionally easy to set up and adjust. It comes with a set-up manual that guides you through all the steps of setting up.
Pros
Affordable price tag
Excellent sound quality and HF sound detail
Easy to set up and adjust
Cons
The glossy surface gets dusty easily
Adam Audio A7X Powered Studio Monitor
If you're looking for a studio speaker that gives you more power and control to your sound while keeping superb sound quality, this speaker is for you!
After the groundbreaking success of the A7, Adam Audio produces this beauty to continue its rise in best studio monitor ranks. This studio monitor has won several awards, thanks to the features and qualities it offers.
The studio monitor comes with the Extended Accelerating Ribbon Technology (X-ART). This technology ensures a surreal sound quality that's completely free of hissing and distortions.
The frequency of the studio monitor can reach up to 50 kHz. Additionally, the X-ART tweeter has higher efficiency and reaches higher sound pressure levels.
One of the best things about this 5.1 studio monitor is the ease of use. Unlike many studio monitors in the market, this one has many controls in the front. This means that you won't have to move the speaker to adjust its sound.
Pros
Extended Accelerating Ribbon Technology provides excellent sound quality
It has an improved frequency response of up to 50 kHz
Front controls for mess-free adjustment
Cons
Mackie HR824Mk2 Studio Monitor
Last but not least, if you're looking for superior sound quality regardless of the price, you should consider this one.
This HR824Mk2 from Mackie is an exceptional studio monitor. It offers high resolution and linear frequency for the best music experience.
From the cabinet design to the woofer settings, everything about this studio monitor is high-end. It features a rugged wooden cabinet that absorbs internal reflections for crisp and clear sound.
It comes with class A/B amplifiers, offering excellent sound coverage of the highs and lows in music.
It also has woofers with supreme quality, allowing it to minimize distortions and maximizes precision.
It's no secret the Mackie their studio monitor at a high price tag. However, the price seems fair if you compare the level of sound quality and controllability you're going for.
Pros
Astonishing sound quality
Durable and reflection absorbing wooden cabinet
The ultra-linear frequency with minimal distortions
Cons
How to Set up a 5.1 Studio Monitor?
A 5.1 surround system gives you a true feeling of a surround sound. You can build it by placing 5 speakers around the room.
Ideally, you place two front speakers on each side, then two similar speakers on the rear side. You also need a quality center speaker that's powered by a subwoofer.
This setting allows you to enjoy invigorating and dynamic music all around the studio.
Wrap Up
There you have it. A list that features the market's finest options, so you can choose the best 5.1 studio monitor for you.
In my opinion, I think that JBL Professional LSR305 is an excellent option to go for. It offers excellent sound detail without costing you a lot of money.
However, if you don't mind splurging some cash on the best quality, Adam Audio A7X Powered Studio Monitor should be your way to go.
Amazon and the Amazon logo are trademarks of Amazon.com, Inc, or its affiliates.